Fred Johnston & Carol Gentithes (NC)
Fred's Statement
THE FIRST SIP OF THE LAST DROP EXHIBITION
Ceramic vessels have been telling us stories since the Neolithic period. At the contemporary moment in ceramics, the curious studio potter continues to create glorious manifestations in clay. I delight in the ways a pot can capture a moment in history whether it be nuanced or boldly overt. They can reveal so much about an area and its people, their thoughts, and beliefs. We once visited the National Gallery in Athens, Greece where I saw a group of ancient amphoras which pictorially told the story of the Amazon warrior women from Greek mythology. These vase paintings depicted the Amazons as heroic and courageous fighters, riding horses and shooting arrows. I learned the Amazons drank an alcoholic concoction made from fermented mare's milk called kumis which they used in rituals around the campfire. So the story of alcohol and pottery is a very old one and continues to play itself out to this day.
The Seagrove area has had a long contentious relationship with alcohol. After the Civil War
during the reconstruction of the South, the Federal government set up licensed whiskey making stills and charged an excise tax on each gallon which treasury agents would then collect. It has been said for every government still there were two illegal stills. Whiskey making was quite a profitable affair if you didn't get caught. A lot of whiskey was sold to northern markets. That meant they needed runners who took the whiskey from the hamlet of Black Ankle (NC) and the Seagrove area onto northern cities, doubling the price before delivering it to the client. It also meant they needed potters to make jugs to put the whiskey in. After the Civil War until the WWII there were many potters making jugs for the whiskey trade around Montgomery, Randolph, and Moore counties. I have a local friend who took me to an old kiln site back in the woods where bootleggers not only made whiskey but also their own jugs. An old potter named Waymon Cole told me that he and his father took a wagon load of jugs to an isolated place, left the wagon, and upon returning the jugs were gone and the money was under the seat. Eventually, glass mason jars eliminated the need of the potters' help.
After 60 some years the town of Seagrove finally approved the sale of alcohol. I recently had a pottery customer ask me where he and his friends could go to have a beer and some ice cream. I thought it sounded like an interesting combination so I delighted in telling him," no problem, just go to the grocery store in Seagrove."
Fred's Bio
Back in the 1980s while working odd jobs cutting wood and cleaning the wood kiln for Mark Hewitt in Pittsboro (NC), Fred found his way over to Seagrove where he began making pots for some of the renowned family potteries such as Ben Owen and Dover. This experience was the catalyst for Fred's commitment and passion to the pottery vernacular, which turned into an adventure and education. After attending Montgomery Community College, Fred left Seagrove in 1989 to attend the famed New York State School of Ceramics at Alfred University, earning a Bachelor of Fine Arts degree with honors. Afterwards, he was awarded a full scholarship to Penn State University where he completed his Master of Fine Arts degree. He followed up his studies at The Haystack Mountain School of Craft in Maine before moving to Tennessee to be an Artist in Resident at the Arrowmont School of Arts and Craft. In 1997 Johnston and his wife, ceramic artist Carol Gentithes, established Johnston & Gentithes Studio and Gallery in downtown Seagrove NC. They recently built a new studio which is located one mile south of Seagrove in the hamlet of Whynot. In 2010, Fred and Carol received the NCECA International Artist Residency in Jingdezhen, China at the Sanbao Ceramic Art Institute to explore ancient and contemporary Chinese porcelain.

Fred's origins in clay are rooted in the southern folk pottery traditions of North Carolina. Growing up in the rural south has given him access to its colorful history and characters, which serve as a wellspring of ideas. Storytelling is a regional pastime consequently he questions how a pot can tell a story. He loves to play with the idea of cross-pollination between different cultures and is highly influenced by the power of nature. His shapes and images are bold, distinctive and imaginative. Johnston's work is shown in galleries and exhibitions including the Smithsonian Show in Washington, DC, the Philadelphia Museum Show in Philadelphia, PA, the Blue Spiral 1 in Asheville, NC, the Mint Museum of Art in Charlotte NC, the Lill Street Gallery in Chicago, IL, Lacoste Gallery in Concord, MA, Sherrie Gallerie in Columbus, OH, Reese Gallery in St. Louis, MO and Pritam & Eames Gallery in Southampton, NY. His work has been published in several books and periodicals.
Carol's Statement
THE FIRST SIP OF THE LAST DROP EXHIBITION
As an avid reader of classical literature with a strong affinity for the narrative decoration on the 17th-18th-century British porcelain ware, I immediately knew that the Punch Bowl would serve as my canvas to depict a contemporary tale. My favorite writers of the 17th-18th century include Lewis Carroll, Charles Dickens, Anthony Trollope, Jonathan Swift, and Voltaire. "The Tale of Two Cities", "Alice in Wonderland", "Gulliver's Travels" and "Candide" are the specific prose that fueled my imagination for this project, the common thread being fanciful characters in a concocted storyline that reflect the social and political events of the times. As for illustrators in the similar time frame, I tip my hat to William Hogarth, J. J. Grandville and Honore Daumier who were gifted pictorial satirists and caricaturists capturing the eternal humor and absurdities of humanity. I have many talented spirits floating through my mind, nudging me to pay them homage. I give to you my storyline as depicted on the Punch Bowl:
A Tale of Two Counties
It was the best of times, it was the wurst of times in the pottery town known as Seagrove, wurst because the grocery store was subject to leave our lands and take all its sausage, produce and commodities with it. Set in the 21st century, a little over a year ago to be exact, the town was divided on the sale of alcohol. If voted no, it would crush the grocery store, it was losing customers to the city of Asheboro (11 miles north) where both alcohol and groceries could be purchased in one store, one swipe. If voted yes, it would raise the town revenue, give the pottery customers their long-awaited amenities while keeping the grocery store afloat. Knit one, purl two, enter the Naysayers planting "Vote No" signs firmly in Seagrove's terra firma. The problem was they didn't have jurisdiction in the town's terrain as they lived one county over. Not even a county really since the town fits neatly within a 0.7 square mile. There you have it. Seagrove got the Yea vote despite the opposition. Father Time was on our side. Look for him on the punch bowl with his fishing pole as he reflects, "it is a far, far better thing that I do than I have ever done; no more need to stall for me."
Carol's Bio
Carol Gentithes grew up in the flatlands of Ohio. After finishing high school she continued her studies at Duke University and graduated with a B.A. in English Literature.
From graduation, she spent a dozen years or so working hectically in the travel industry. To name a few of those jobs, she managed a travel agency, escorted groups to Russia, handled tourist campaigns for a few notorious countries. She did this while residing first in New York City and then Washington, D.C. In 1989 she was accepted to Alfred University School of Art and Ceramics where she received her B.F.A. cum laude in ceramics. Thirsting yet for more education, she went on for special studies in ceramics at Penn State University. To establish her own perspective and style from what she had absorbed at school, Carol was a resident artist for a year at the Arrowmont School of Art in Tennessee. In 1997, Carol and her husband, Fred Johnston, established Johnston & Gentithes Art Pottery in Seagrove, NC. Carol & Fred received the NCECA 2010 International Artist Residency in Jingdezhen, China for 6 weeks at the Sanbao Ceramic Art Institute to explore ancient and contemporary Chinese porcelain.

Carol is best known for her quixotic sculptures. Handbuilt with coils, her often surreal sculptures are satirical and narrative. Abstracting from mythology, literature and life's observations, her work is an embodiment of the complex nuances of nature and humankind. Her subject matter ranges anywhere from conceptual ideas to political commentaries. Carol's work has been published in several books and periodicals. She has exhibited in many renowned shows and galleries. A list is yours for the asking.
 
The First Sip
Fred Johnston and Carol Gentithes, 2017. Seagrove, NC. H. 6 ½"
This is the piece Fred and Carol created for THE LAST DROP: INTOXICATING POTTERY, PAST AND PRESENT.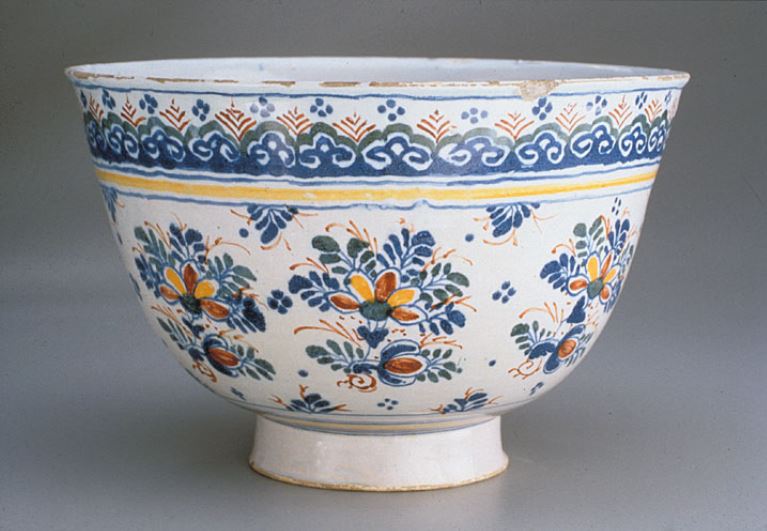 Punch Bowl
Bristol or London, England. Tin-glazed earthenware (Delft). Chipstone Foundation. 1966.8. H. 7 3/8"
This is the historical piece from which Fred and Carol chose to draw inspiration.