Ibrahim Said (NC via Egypt)
Ibrahim's Statement
My selection of the English Delft Fuddling Cup for this exhibition was twofold. First, it was the only vessel option offered that was meant to be shared between individuals. Secondly, I love geometry and the shape of the three interconnected cups and their twisted handles formed a six-pointed star. My selection was made before reading any description of what it had been used for.
Eating food and drinks on shared plates and shared cups is how I grew up having meals in Egypt, not just with my family but with friends as well. Here in America, I miss that intimacy. The irony that this exhibition was based on vessels of intoxication and yet I don't actually drink alcohol wasn't lost on me. However, I did not think it was reason enough to not participate in the show--because sharing, celebrating and enjoying the company of friends, and playing games are not in any way exclusive to the drinking of liquor, those things are shared all over the world.
Since being invited to participate in this show, I have made three pieces in response to this 17th c. Fuddling Cup, each time simplifying the formal elements and expanding on the personal nature of the theme.
My work has always been rooted in expanding on forms and principles from my own culture: namely ancient Egyptian pottery and the use of geometry in Islamic art. With this show, I had the chance to expand my conversation to 17th c. British ceramics and ask what I might have in common with another culture and someone else's history.
My first attempt takes the six pointed star as the primary motif to be carried out more dominantly in as many ways as possible; on the lid, body, surface design, and glaze. By tilting my vessels slightly outward, it gave me more negative space between the necks and the arms of the vessels that make the whole form feel lighter and have more rhythmic movement and playfulness. The turquoise glaze and gold patina were an attempt to tie it back to an ancient Egyptian feeling.
In my second attempt, I wanted to lean towards the idea of sharing as ritual. I wanted to simplify and focus on the triangular movement of the intertwined arms and make the piece feel even lighter and more elegant. I shifted the angle of the arms more sharply downward from the neck to the body, then become the actual legs of the piece so that they appear to frame and nestle the body within a larger three-dimensional star. It became a precious thing, an object to commune with.
Then, interconnectedness became the theme. The concept of sharing and bonding and the heart being the center of those connections led to my last piece. If sharing is at the core of bonding, and bonding is what brings us closer together and builds trust and connections, then I wanted to focus on that. I continued to strive to make the function of a free-standing vessel somehow build off of the rhythmic triangular movement of the handles so I considered if the handles and feet of the form be one in the same; and if there could be separate and shared vessels combined. Geometry underlies the simplicity of these decisions. Once the form was built, and the suspended vessel in the center of piece hovered in the center, like a heart, I knew it should be red. Without trying to be gory, the color is connected to blood as well- and blood to the body- and connections between bodies and not just minds. When we share a drink and break bread with others we share something of ourselves in an attempt to be closer.
Ibrahim's Bio
From the narrow streets, pottery ovens, and noisy workshops of Fustat, Ibrahim Said was born in 1976. Fustat is an area in Cairo, Egypt that has etched its name in the history of the pottery industry since the Islamic conquest. Ibrahim comes from a family of potters, and his father became his first teacher and the rich cultural heritage of Egypt became his second.
Known for his elegant vases that are included in some prestigious Middle East collections, Ibrahim's work is inspired by the ancient work of Egyptians- the strong lines and bold shapes- although his signature work embodies a lightness that comes from his silhouettes, small bases, and delicate finials.
His carvings are derived from ancient Islamic jug filter designs, which were both functional and aesthetic. The carved area in the neck of the jug filtered out impurities when water was collected in the Nile. Ibrahim wanted to find a way to bring these ancient carvings back to life while somehow maintaining their history.
He has participated in workshops and demonstrations throughout the Middle East and has been highly recognized for his technical ability, creativity, and innovation in the field of ceramics. His work is included in the Victoria and Albert Museum, the Kalamazoo Institute of Arts, Masqat Museum, Museum of Modern Art in Cairo, Egypt, and the Center of Islamic Art in Kuwait, among others.
He now lives and works in Greensboro, North Carolina and Cairo, Egypt.
(Left to Right, Variations on a theme.) Heart. Triplet Cup with Finials. Triplet Cup.
Ibrahim Said, 2017. Greensboro, NC. H. 8", H. 8", H. 4 ¾"
The three pieces are variations on a theme that Ibrahim created for THE LAST DROP: INTOXICATING POTTERY, PAST AND PRESENT.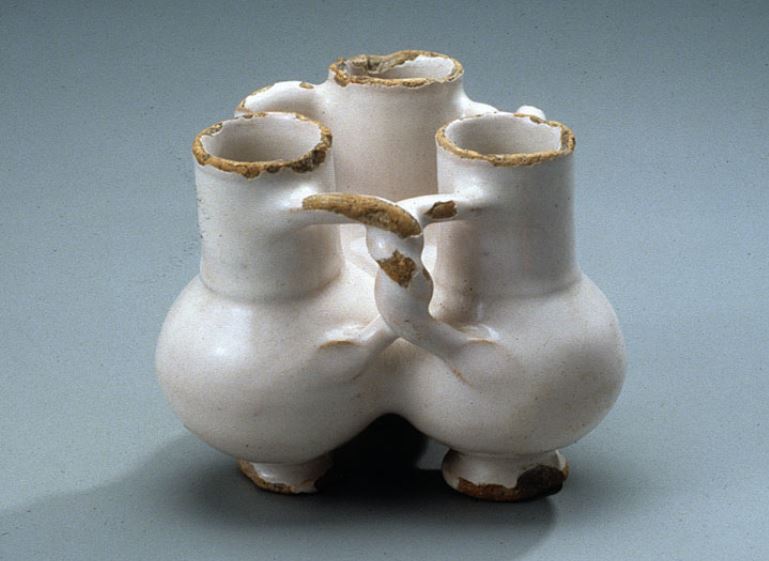 Fuddling Cup
Southwark, London, England, ca. 1630-1650. Tin-glazed earthenware (Delft). Chipstone Foundation. 1991.5. H. 3 3/8"
This is the historical piece from which Ibrahim chose to draw inspiration.