Virgina Scotchie (SC)
Virginia's Statement
The piece I created for this exhibition was influenced by an 18-century punch bowl. I choose my historical pieces based on the form and handles on the punch bowl and also the significance of this particular piece of pottery being the center of attention where everyone gathers to receive their drink!
The piece was wheel thrown and assembled with the foot being thrown onto the bottom of the trimmed bowl to achieve the elegance of form and visual size I was looking for in the piece. All the handles were pulled and then attached to the bowl...making many handles so that one could always find a way to pick up this piece of pottery in case of feeling a bit tipsy at the end of the party!
The bronze glaze was brushed on the bisque ware and fired to 2000 degrees in an oxidation atmosphere. It is food safe and of course, the glaze is often mistaken for a real bronze material... one of the many things ceramics is so adaptable to... fooling the eye.
Great to make this piece... would have never thought of this form if Rob Hunter had not tossed it my way!
Bronze Eight Handled Punch Bowl
Virginia Scotchie, 2017. Columbia, SC. H. 8 3/8"
This is the piece Virginia created for THE LAST DROP: INTOXICATING POTTERY, PAST AND PRESENT.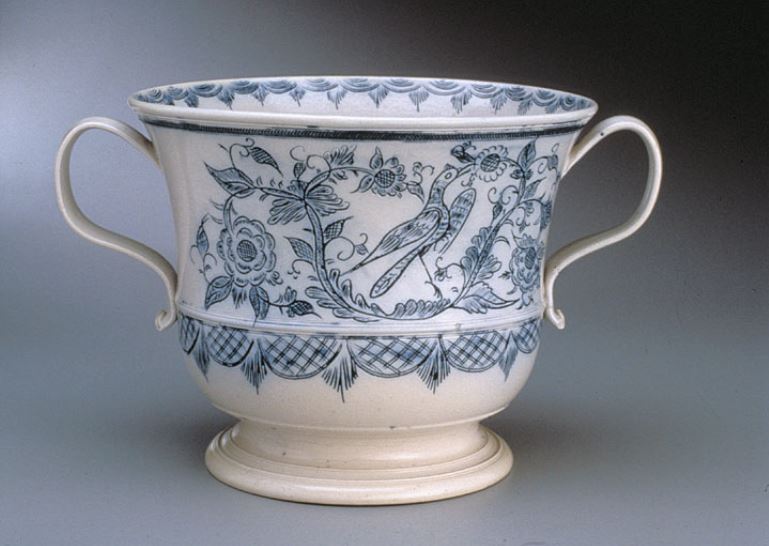 Two Handle Cup
Staffordshire, England, dated 1761. White salt-glazed stoneware with scratch blue decoration. Chipstone Foundation. 1989.1. H. 8 ¼"
This is the historical piece from which Virginia chose to draw inspiration.